men the mind of Eddie Jones the race to win next year's Rugby World Cup is like a classic crunch. "In the Cheltenham Gold Cup Ireland and France would probably be nose to nose, straight ahead. New Zealand and South Africa would be back and forth and we are right behind that. But we have a tight rein at the moment so we have a lot to do in the last 400. Do you see the video?"
Few would dispute his assessment of a tightly bunched pitch but, as Jones well knows, the key to his England team is how quickly they can accelerate up the hill between now and then. and next September. His first training squad of the season offered some clues but, due to injuries and the temporary unavailability of others, the formal announcement of the autumn squad on October 17 will be a better gauge of selection.
Whoever is selected, however, Jones is more concerned with working on how his side thinks under pressure. In recent months spent watching an interesting Rugby Championship and exciting opening for the Premiership, he has also shown that a well-prepared Plan A alone is not enough for the teams with high aspirations.
He was particularly struck by the recent National Rugby League match between his favorite team, the Rabbitohs, and their Sydney rivals the Roosters. "They had eight sin bins, five HIA [head injury assessments] and five of the eight tries scored by the team without a team. This is the kind of landscape we are entering."
Factor in the increase in stoppages: "It's a bad part of our game right now – there's just too many stops," and Jones believes coaches and players need to be more flexible than ever.
"Probably 25% of the game is now uncontrollable, through sin bins, HIAs and uneven numbers in the game. So we have to be able to adapt to the game that will be played at that time. That is difficult. There aren't too many teams in the world that can do it. In fact, I can't name one right now. So there is a great opportunity for us.
"We need to find the right balance of people, skills and attitude to lead the team into the most volatile rugby environment we have ever seen."
That's why Jones was in California this month to study how the US Navy SEALs train. The rugby coach who checks Osama bin Laden is rarely in the same breath as honing his team's skills but Jones is learning how America's special forces responded when disaster threatened to strike at a key point of their mission in Pakistan in May 2011.
The helicopter that was carrying the seals was meant to escape over the compound to allow the troops to come down to the ground with a rope. In the event the tail of the helicopter hit the top of the perimeter of the compound and ended up landing on its side.
"I was lucky enough to spend a few days out in San Diego with the Navy Seals and understand how we can better prepare the players to deal with the unexpected. It was interesting. They practiced that whole Osama project for 12 months. And the first thing they did was wrong. But then they were able to fight it and get it [the mission] done within 38 minutes.
"So you look at the analogy with us now: 12 months before the World Cup, we're planning a game with 35 minutes of ball being played. So the ability to dress-practice is an opportunity to prepare the players for what's to come, whether it's the first, second or third round. Exciting, isn't it?"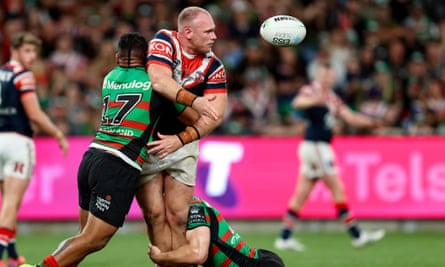 Whether France, Ireland or New Zealand will appreciate being effectively compared to the founder of al-Qaida is for another day, but Jones is clearly on the lookout for players who can better respond to adversity. than England did in the 2019 Rugby World Cup final in Japan. when Kyle Sinckler was forced out early.
With that in mind he is planning a "mini-hell" for his squad when they travel to Jersey next month for the autumn trials. The players will also undergo another "misogi", a variation on the Japanese practice of ritual purification, to put past campaigns behind them and prepare for the new.
The net result, Jones hopes, will be a squad ready for anything, just as he himself was as a young inner-city teacher in Sydney. "We had to take the children to the park at lunchtime and teachers would have to go and pick up syringes. I remember working there for three months without any pay."
Although he feels immense sympathy for all those affected at Worcester as they try to battle through their own period of intense hardship, his eyes are firmly fixed on the big prize. "I never went into rugby to be happy. I got into rugby to build a good team, to play good rugby and to win."
Uncertain world or not, some things never change.
A world in motion
At some point rugby union will have to sit down and talk about forward passes. Again. There was a classic example on Sunday when Exeter stepped up to score a brilliant multi-step try to win the game against Harlequins in the dying hours, only for the referee to refer one of the passes to the TV match official.
The TMO thought Stuart Hogg's pass to Patrick Schickerling was ahead but the referee, Ian Tempest, decided the evidence was not clear and stayed his decision on the field. Sitting barely 20 meters away in the main position it felt like a fair decision when watched in real time.
The slow replays were inconsistent – one of Hogg's hands appeared to be going backwards, for example, but the other did not. And would Tempest have achieved the same decision at the Twickenham Stoop?
Exeter head coach Ali Hepher, a fan of the NFL where forward passes are actively encouraged, was interesting on the subject. "There were a lot of people against us and they usually play on them. We went to Toulon and some passes were like five meters forward and nobody mentioned it. I would say, the way they control it now, that is not advanced.
"Hands went back, momentum carries the ball forward a bit, not a mile. They're probably right to review it but obviously I'm going to say it was fine.'
In Hepher's view, hanging around for the TMO to achieve their slide rule is now part of the deal. "It's important to get the decisions right. You want an accurate call. As long as enough time is spent on them, it's fine. It didn't spoil anyone's fun. In American football they stop it all the time.
"There's too much at stake now with players and teams and clubs, it's important that you get the right decisions."
Maybe, but if the TMO can't really tell, after multiple slow replays, whether a ball has gone forward or not, what's the point? Better, of course, for the referees to see clear clear forward passes in real time and leave the TMO to advise him on touch and in-goal decisions.
One to watch
After reports of high ticket prices at some English grounds this month, it's not fair to say that some clubs are becoming much more proactive about affordable entry to Premier League games. Gloucester are selling standing tickets for adults behind the posts for £15 and Sale Sharks owner Simon Orange has suggested the club is considering £10 tickets and allowing children £5.
"We need more supporters at the games if rugby is to grow and rugby needs to grow so clubs don't get into trouble," tweeted Orange over the weekend. "Too many empty seats today!"
Cheaper tickets won't solve all of club rugby's problems but making the game more accessible to all is certainly a key part of the solution.
Still want more?
The haka is part of rugby tradition but does it give teams an unsporting advantage? Daniel Gallan watches.
Robert Kitson talks to Northampton captain Lewis Ludlam about the financial troubles ahead of England's home game.
And Ian Malin pays tribute to Eddie Butler in the Guardian's obituary.