Main events
Worrall plodding slowly back to his track at Wantage Road, irritated by a superb drive for four by Williams. A frustrating build for Surrey and the sky is hanging heavy with big, fake clouds. North 358-7.
England T20 side after landing in Karachi – a year late after the 2021 cancellation debacle – England's first tour of Pakistan in 17 years.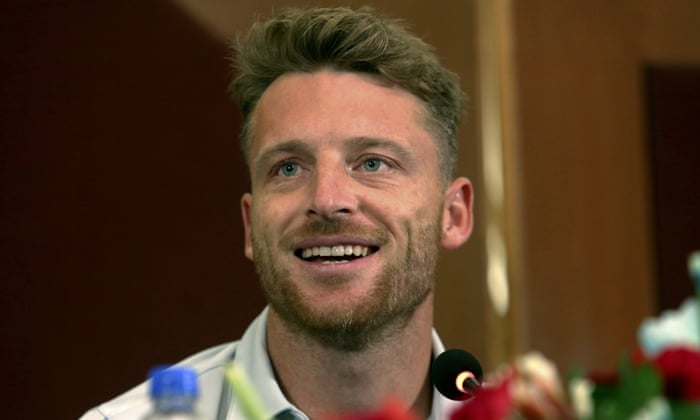 If you hit here, Buttler could be sitting on a throne:
Great, Northants. Zaib and Williams jumped up, and batted forward. Northants: 342 for seven, the lead 260 – although the clock is the most important thing.
Just grabbing some lunch – back soon.
Names in the frame for the position of England Chairman of Selectors (announced last week): Nick Knight, Steven Finn, Alec Stewart.
County Grounds: North 339 and 327-7 v Surrey 421
Edgbaston: Warwickshire 196 and 56-1 v Somerset 219 and 340-7d.
Heading: Essex 225 and 162-9 BEAT Yorkshire 134 and 252 by one wicket.
SECTION TWO
Grace Road: Durham 296 and 108-3 BEAT Leicestershire 202 and 108-3 by seven wickets.
Lord: Middlesex 390 and 45-0 BEAT Glamorgan 214 and 220
Hove: Sussex 220 and 152-3 v Worcestershire 438-5dec
In the remaining Division Two game, Sussex chased Worcestershire down for 72 with seven wickets to spare. A quick 55 not out for Tom Alsop.
At Wantage Road, Peasants are almost a third of the way to their goal (survival). The lead 239 and only two wickets lost by the Surrey attack and the new ball: 321-7. Sibley and Davies debt for Warwickshire: 55 each.
I have received an email from Harvey from "delicious pumpkin recipes for your readers to try this fall." If anyone wants a recipe for roasted pumpkin on sourdough, loaded pumpkin fries or pumpkin and sweet potato rosti – let me know.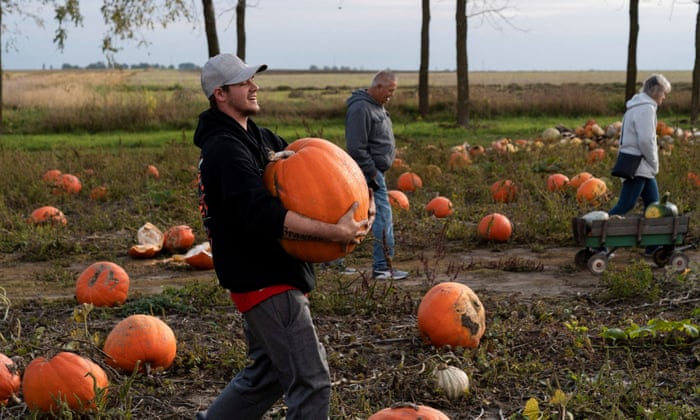 This was Durham interim head coach Neil Killeen on Matthew Potts yesterday:
"Matthew (Potts) was great, it's great to get a CB in this game. It is a credit to the bowler that he has been all summer, he has done that from start to finish. But to be honest he couldn't have done that today without the whole bowling group working hard around him to enable him to keep attacking and keep taking those wickets. I am proud of the whole group.
"As a young bowler he has the potential to get even better, of course he has. Over the last few years he has become stronger, fitter, faster and has learned his game and deserves all the success he has had this year.
"He was never going to play every game for England this summer and was very keen to come back and bowl some innings for us as he looks to prepare for the Pakistan tour later in the year."
Regarding the BTL discussion on the High Performance Review – there was a hint that counties could be rewarded for more than performance – see page 34: "Potential reward based on impact: performance, inspired generations, talent development etc to align with English cricket objectives." I think this is a reward in terms of money rather than points – but more will become clear. Maybe.
Read the review here.
His wicket at Edgbaston …. Rob Yates sent his way lbw to Sajid Khan. Warwicks 30-1. Don't hate me but … this is Somerset, isn't it?
County chairmen's meeting postponed
The BIG MEETING of county chairmen to discuss the HPR will no longer take place on 20 September. That confirmation came in the care of CCL Middlesex in a letter to members. Excerpt below:
The planned meeting of all CCFG Chairpersons on 20 Septemberth has also been postponed, and the ECB will work with all the counties to rearrange a suitable date, when Chairmen will have the opportunity to discuss the recommendations in the review regarding future town structures. In addition, the ECB also confirmed that no final decision on the domestic structure for 2024 and beyond will be taken at this meeting, which will give each County sufficient time to consult on the proposals."
I don't want to overdo the topic of excitement on this blog, but I just got my slippers from the summer they had in the back of the wardrobe.
At Northants, Surrey took the new ball, and made the breakthrough. The steadfast Vasconcelos lbw to Dan Worrall for 79. Skittles time?
Middlesex beat Glamorgan by 10 wickets at Lords
to close, and also had a good look at Glamorgan just before tea yesterday too. Five wickets against Toby's main destroyer Roland Jones, before Stoneman and Robson took the runs in five and a bit more.
Durham beat Leicestershire by seven wickets
Easy-peasy for Durham, losing Jones by just fifty this morning. Take Matthew Potts' bow. Leicestershire – just two more games before you can retreat to lick your wounds. And rise again (maybe).
Grace Road: Durham 296 and 108-3 BEAT Leicestershire 202 and 108-3 by seven wickets.
Somerset, 340 for seven, asserts a lead of 363
Where is Warwickshire? 364 runs to win; 82 overs to survive. Safety for Somerset if they win.
Fresh face/wet behind the ears/shorts etc etc Sussex night watchman to lose Brad Currie. Ali Orr, in the running for CWC young player of the year, played andante 44, Alsop four not out at the other end. A watch day seems unlikely.
Durham need just three runs to take the lead Unbeaten Leicestershire. In sympathy with those at Grace Road, here's a happier memory (thanks Romeo).
George Bartlett's hundred
A big hug for George, the first ton of the summer, and a vital one too. He celebrates by hitting six shortly afterwards.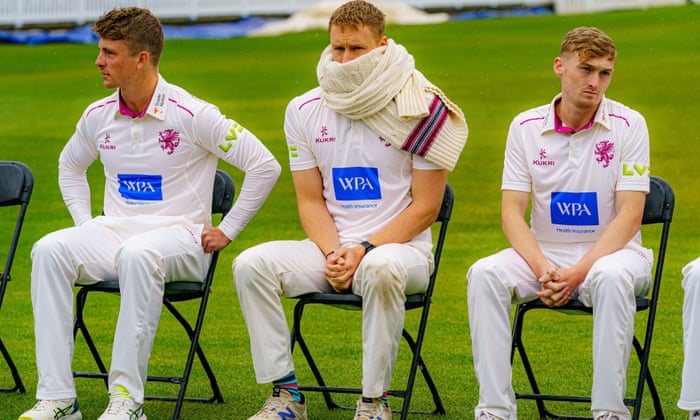 The final curtain is about to be drawn on the Lord. Fourth for TRJ, nine to go, and the game was only 15 ahead.
If Vasconcelos and Zaib could extend the lead to 250…. but no, I really think that Surrey will get the run, however, enough, unless Northants can bat all day. Northants currently 226 for five, 145 in front.
Losing Somerset early wicket: not a fifty for Lewis Goldsworthy, but a hundred in sight for George Bartlett.
County Grounds: North 339 and 209-5 v Surrey 421
Edgbaston: Warwickshire 196 v Somerset 219 and 277-4
Headingley: Essex 225 and 162-9 BEAT Yorkshire 134 and 252 by one wicket.
SECTION TWO
Grace Road: Leicestershire 202 and 198 v Durham 296 and 51-2
Lords: Middlesex 390 v Glamorgan 214 and 191-8
Hove: Sussex 220 and 39-1 v Worcestershire 438-5dec
Matthew Potts followed up Leicestershire's six-wicket haul in the first innings with seven for 49 in the second, to compile a career-best all-round 13 for 101 and add Durham within the scene of victory. Potts, with the air of a man who pulls a plow for fun, through spells, declines without victory Leicestershire'scorecard.
With scores level at Headingley, and Essex nine wickets down, Shane Snater smashed the winning runs with a leg-side boundary to secure a one-wicket win in a thriller against Yorkshire. Snater's 65 not out in 51 balls propped up Essex after they had made a hash of chasing 162, slipping from 51 for two to 64 for six.
Steve Patterson, who dismissed Yorkshire at the end of the season, took five for 46. Ben Coad and Finlay Bean had earlier made first-class fifties to give the hosts a chance.
Somerset, who started the day by issuing a press release criticizing the current ECB cricket schedule as "unacceptable," and had an on-field advantage slowing down the crucial relegation battle at Edgbaston. As seen by Toms Lammonby and Abell, then George Bartlett (91 not out) and Lewis Goldsworthy, brilliantly Warwickshire's bowlers, members chewed more than 300 leads and statements of the club.
"The current home fixture schedule, which has seen just four one-day games played in Taunton over 43 days in the height of summer this year, with 17 Somerset players unavailable, is unacceptable to the club, its members and South West cricket . public," he said.
Tom Curran tackled his first ever title chase Surrey caught their game against Northamptonshire at the collar. Due to injury, the IPL and Covid, Curran has not played a first-class game since April 2019, but he stormed back in, hitting with panache, three sixes in his 93-ball 115.
Surrey's 82-run first-innings lead looked vital when Northants lost second-innings wickets early, but half-centuries from Luke Procter, and then Ricardo Vasconcelos gave Northants a 100-plus lead at stumps and set up a final day tantalizing.
All addresses were ready at Lord's for Glamorgan until 10 minutes before tea. From there, they lost eight for 52, after wasting an opening stand of 123 between David Lloyd and Edward Byrom. Just 15 runs ahead, they defeat their promotion rivals Middle sex in the morning. Toby Roland-Jones took three for 48; Tim Murtagh and Ethan Bamber two wickets apiece.
Double hundred for Jake Libby, his first put Worcestershire in the driving seat at damp Hove, quick runs when the weather returns. Worcestershire declared with a lead of 218, giving Sussex time to lose their captain Tom Haines before the closing.
Good morning! It's the final day of this round, and Surrey are likely to climb back to the top of the table, unless Northants can do something extraordinary. Elsewhere, Matthew Potts Durham's 13 wickets should ensure things clear up early in the morning; Glamorgan are in deep trouble, and Sussex's mettle is about to be tested at Hove. Somerset are set to save the game on a tough Edgbaston pitch, while Essex took on Yorkshire in the summer CC (discussion) yesterday.